YouthXP is the first dedicated jobs platform for young employees between the ages of 15-24.
Our company was founded when we realised that as students, our opportunities to get proper experience in the "real-world" was limited. We faced problems like having to choose degrees without knowing whether it was the right decision, and spending hours on job sites only to find entry-level jobs that required years of experience. We sought to change this.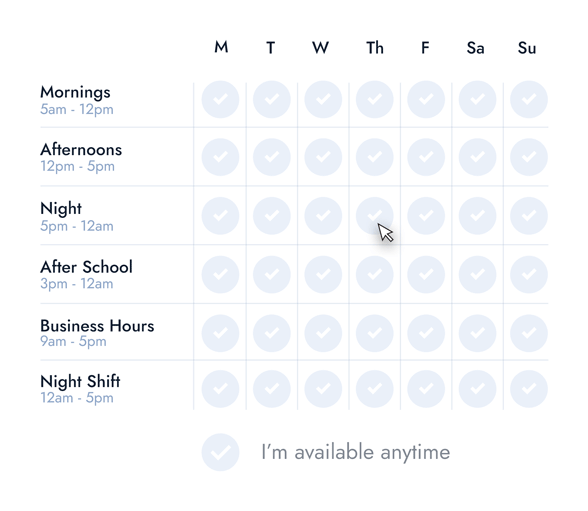 Add your own Availability
Add in your own availability to your profile so Employers can see when you are available to work. Employers can search by availability in the Employee search area so it's important you fill out this field to capture as much attention as possible.

Change your hours to suit you, regularly hop in to adjust your hours to fit in with your lifestyle.
Create your own Resumé using our specially designed Kit, just for people between 15-24. Our Kit ensures you add the info that Employers are looking for. We are consistently working with Employers to refine this process to give you the best opportunity.

Our unique Kit will ask you important questions that aren't often seen in Resumés to help you stand out, such as 'What matters to you?' or 'What are your goals?'. This will also help the Employer get to know you better!